Forensics Supervisor
Posts: 2376
Joined: Fri Oct 09, 2009 6:15 pm
I'm not sure what to make of this ...
http://www.storm8.com/game/clue-bingo/
http://www.youtube.com/watch?v=9C_uvezTNUM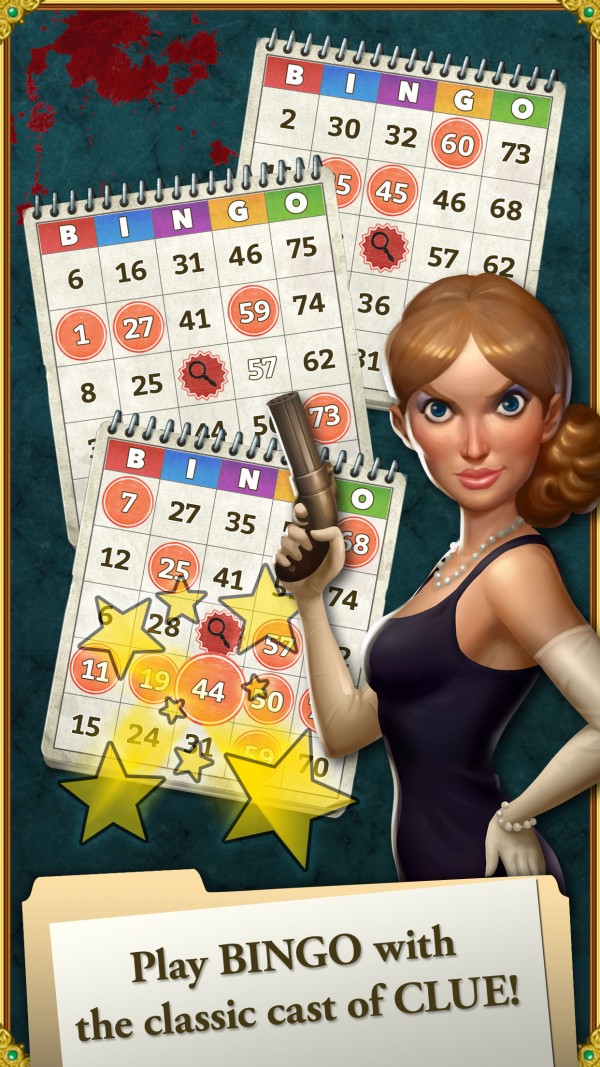 ---
Forensics Supervisor
Posts: 2376
Joined: Fri Oct 09, 2009 6:15 pm
---
Ringer
Posts: 11058
Joined: Thu May 31, 2007 11:58 am
Location: If I told you it wouldn't be a secret anymore
Hmmm I don't even remember what I was getting at with the Clue Bingo idea. xD
I'm sure it made sense at the time. I have a binder full of all my Clue drawings, doodles, game ideas, etc. I'll go through it and see if I can find anything on Clue Bingo.
---
---
Forensics Supervisor
Posts: 2376
Joined: Fri Oct 09, 2009 6:15 pm
Michael wrote:I've been playing for a couple weeks. I really like the artwork. Trying to take screenshots of everything.
Finally downloaded this and tried it out.
The music is great, it reminds me of the movie music.
The art is fantastic.
But I really don't understand how this applies to Clue at all. I guess I should have read the tutorial. It seems to be a straight bingo game, and I'm terrified I'm going to accidentally charge something to my credit card.
The board game only appears to apply as you advance levels, and even then, you can only see it when you exit the game. It's bizarre.
---
Fleet Street Look-Out
Posts: 3216
Joined: Sun Sep 26, 2004 12:45 pm
Location: GA, USA
That's pretty much all Storm8 does: churning out themed versions of Bingo & such. They even, for reasons unknown, released a separate Valentine's Day Clue Bingo app.

But you're right it's got nothing to do with Clue/do at all, really. It's just Bingo. With Clue art. It's as pointless as it looks. I played it for a long time before finally giving up. The more you level up, the more expensive extra cards become (spending from the in-game currency you earn by playing & winning), and it's nearly impossible to score a win if you're just playing one card.


But kudos to their artists. That's a great looking suspect lineup, and the room art (including the locations they've invented for the app) is very nicely done, too.
"But look what happened to the cook!"
---
Gumshoe
Posts: 184
Joined: Wed May 23, 2018 10:43 am
Location: Massachusetts
Contact:
Found some concept art for Clue Bingo. The room in it looks like the lounge and Mrs. White looks different. She wearing a white dress, which I prefer than the black dress she wears in the official release.
https://www.danielseiberling.com/clue/
Check out my Instagram account to see my art -
https://www.instagram.com/david_rodriguez_art/?hl=en
---