Master Detective
Posts: 1371
Joined: Wed May 23, 2018 10:43 am
Location: Houston, TX
---
Fleet Street Look-Out
Posts: 3250
Joined: Sun Sep 26, 2004 12:45 pm
Location: GA, USA
https://www.instagram.com/p/B5AfK__JYGx/
Looks like some kind of Hasbro multi-game package. Another post on the same account shows details of the Monopoly pieces. It looks like players can purchase the base set & additional tins of playing pieces & boards to pack multiple games into one case. I'm too lazy tonight to translate the captions & visible packaging text, so I'm guessing purely from the photos.
Sign me up if this hits the North American market, lol. King of game night with that portable bugger in tow.
"But look what happened to the cook!"
---
Forensics Supervisor
Posts: 2625
Joined: Fri Oct 09, 2009 6:15 pm
It doesn't really seem all that portable. This isn't likely a Game-to-Go so much as a regular edition in a custom tin.
EDIT: after reading more about it in Peacock's posts, it seems more like the 2000s bookshelf editions — full-sized éditions in a small box. So definitely NOT a miniaturized "Games-to-Go" type edition. Road Trip seems to have replaced Games-to-Go travel editions. Though it's a bit confusing, because the pictures in your post clearly make it look like a full-sized game, with full-sized cards, and detective notebook, as well as dice. But the board is split into quarters, so I'm a bit confused as to how it fits in the tiny boxes. That said, the "suitcase" is a healthy 15"x12" so the various game boards can easily be held in there, and only the tins contain the parts. Given that, it's basically like carrying around a standard Clue game, not even as portable as a bookshelf edition, much less a travel edition. the only perk here is that it holds multiple games, not just Clue. And I think it's been a while since Hasbro put multiple brands in the same box (Game Night packs?). However, Peacock's posts show a much more miniaturized set of games, with a Games-to-Go type board that opens in halves, with miniaturized components. So I'm confused as to what we're even looking at in these posts.
EDIT: so the IG post you link to seems to be misleading as far as size — the cards appear full sized but they have perforation marks around all four edges, so that suggests they are actually miniaturized, and cheaply made. It's still weird that full-sized dice would be included, as well as what appear to be full-sized pawns. But on closer inspection the board appears to be a bi-fold. So these pictures are incredibly misleading as to size.
If this is to replace Games-To-Go in the US, there would likely need to be a way to package these individually. Knowing Hasbro in the US, it would be in a cheap cardboard box instead of nice metal tins.
Last edited by
Murder by Death
on Tue Nov 19, 2019 10:40 am, edited 3 times in total.
---
Fleet Street Look-Out
Posts: 3250
Joined: Sun Sep 26, 2004 12:45 pm
Location: GA, USA
"Portable" needn't mean it fits into a backpack. The second post "clearly" (used loosely because it is admittedly small & takes some pinch-n-zoom action to inspect) shows a case not much bigger than 1 average board game box built to contain multiple tins for multiple games.

It's like those early Waddingtons travel editions that were just full sized games folded into smaller boxes. Only now they've gone a step further & crammed up to 8 different games into one package.

Granted, it's hard to guess the quality of something like this without getting a hands-on look at it, but I can see the appeal in an RV, or a small classroom/daycare setting — really any small space that also has a need for analog entertainment options.

Besides that: the tins would be REALLY charming as table decor for a game night/games room, even if they didn't get opened up & put to use.
"But look what happened to the cook!"
---
Fleet Street Look-Out
Posts: 3250
Joined: Sun Sep 26, 2004 12:45 pm
Location: GA, USA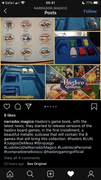 Forgot Instagram would translate for me.
Hasbro "Game Books." And the case that houses all of them is a kind of metal suitcase. Sturdier than I'd have thought — so no way we'll get it in the States!
EDIT:
Definitely not gonna see this on our shelves any time soon. From what I can gather this is a promotion between Hasbro & a newspaper. This article includes a video promo at the end of the page:
https://elcomercio.pe/colecciones-el-co ... 7-noticia/
And here's a rough (Google) translation of the body of the article:
In recent years, board games have regained their popularity of yesteryear and stand out as some of the distraction activities that people do in their free time. Today it is very common for young people to come together to play in a group, there are even centers dedicated only to this (places where you can request a board game and enjoy it with friends with snacks and drinks).
Yes, the board games are back, and as always, stand out the classics of all time such as the ambitious Monopoly, the intriguing Clue, the combative Battleship, or the multifaceted Cranium. That is why El Comercio brings you a collection of the most classic games of all time in a practical briefcase so you can take them in one place and you can play it wherever you want.


Collection details This new series consists of 8 classic Hasbro games in a portable version and a metal collection case. In addition, each game is presented in a small metal box with all its chips and a board or accessories if required.
The portable version in a metal collector case allows easy storage and transport, essential for trips or meetings away from home. This briefcase measures 39 cm long by 30 cm wide and 8 cm deep, carries a handle and contains a thermoforming inside where all the games and accessories fit.
This collection is a good opportunity to have the games you always wanted and maybe you couldn't have. In addition, the collection allows you to have all the games (the best selling games ever) in one place to have fun with them whenever and wherever you want.
Forms of acquisition
The collection will be available nationwide and can be purchased from Thursday, September 6. The first installment, which includes the collection case and basic accessories to play will cost S / 32 and the others will cost S / 29.90 each. All of them can be acquired through the three channels indicated below:
1. At any kiosk: Order it at your favorite kiosk every Thursday from September 6 for the amount indicated above.
2. In the corner of the collector: The Trome store now has a section dedicated to our collectors. The store is located in the Acuña 120 passage, Cercado de Lima. You can also locate them by phone: 3116500, annex 6292. There you can pay for them directly (obviously limited stock).
3. Through the Subscription of the newspaper El Comercio: If you are a subscriber of the newspaper and want to receive the collection in the comfort of home, you can call 311-5100, option 4 and request the collection at home by paying in advance.
Followed by a standard description of all the games & their components.
"But look what happened to the cook!"
---
Private Eye
Posts: 429
Joined: Mon Jan 15, 2018 2:36 pm
Location: In the ballroom, with the Candlestick
Those tins though
Imagine carrying around a deck in that
---