DEATH HAS SPOKEN FOR POOR BOBBY SINCLAIR!
(sorry Princeazure33 guessed wrong and met his untimely demise)
Everyone didnt beleive the motician on what he said, except for Sunshine who has the premonition in the first place. The next day, Bobby got up early, He went down to the dock to talk to this girl who was smitten with Bobby. She said that he was sweet sensitive person and that she couldnt imagine anybody hating him. Bobby blushed and said he was heartbroken since his girlfreind died on the S.S. Killya, and told her that he would like to show her the picture of the two of them together. Thats when it happend....
Bobby slipped on a slippery bucket and crashed into the water, it was a windy day so he began to drift out, but as he was swimming back, another yacht called "THE INCH" began to take off, the suction was too strong, that Bobby begain to get drawn in. Before you know it, he was diced to bits by the propeller. When the other five found out, they went to take a trip to the mortician....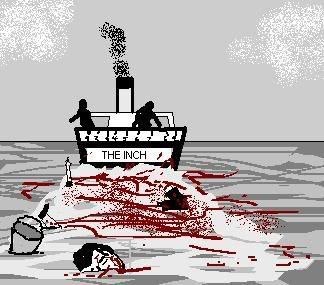 Prior to the accedent involving the S.S. Killya, the a photo was taken of the six freinds individually, including Bobby, they couldnt help but notice the uncanniness of the fact that Bobby was standing next the Chum Buket supplies building, and the Inch nails warehouse.